Do-It-Yourself information for the modifications I've completed



Do-It-Yourself information for essential wear and tear items



Articles covering all the ways to maintain your car



All about the BMW 330ci



Various links that I've found valuable



A few pictures of my car and some others

Zeckhausen Modified Clutch Delay Valve Install
Warning!
The information provided at "Bmw330ci.net" web site is "as is" with all faults and without warranty of any kind, expressed or implied, including those of merchantability and fitness for a particular purpose, or arising from a course of dealing, usage or trade practice. "Bmw330ci.net" web site nor it's owner/creator, can not and does not provide any warranty, expressed or implied, about the accuracy or use of information found on "Bmw330ci.net" web site. The user assumes that risk.
THE USE OF THIS INFORMATION IS FOR YOUR REFERENCE ONLY. BMW330CI.NET AND ITS OWNER/CREATOR DISCLAIM ALL LIABILITY FOR DIRECT, INDIRECT, INCIDENTAL, OR CONSEQUENTIAL DAMAGES OR INJURIES THAT RESULT FROM ANY USE OF THE EXAMPLES, INSTRUCTIONS OR OTHER INFORMATION ON THIS PAGE.
Why add a modified clutch delay valve?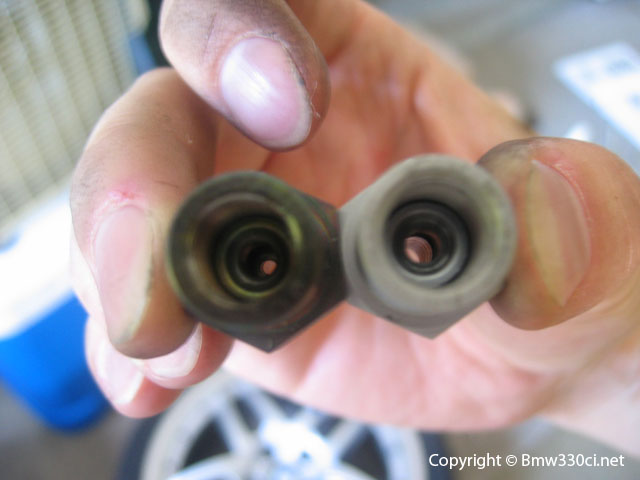 The clutch delay valve limits the hydraulic flow to the clutch slave cylinder. It was BMW's idea to help make your shifts smoother by limitling the rate at which the clutch could be let out. By looking at the picture above, it should make sense why you should replace it. The OEM clutch delay valve is on the left, and the modified one is on the right. This little valve is the reason why so many people are frusterated by their clutches. I highly reccomend you do this modification immedietly, because you'll never regret it. You'll feel like you've got a new car!

Difficulty
This is not really a difficult job but it can be messy and it involves working in tight places. If you're not a fan of either, this might be quite frustrating. It's definetly worth it. You will have to bleed your clutch when you are finished, so remember this before you start!
Parts Needed
Zeckhausen Modifid Clutch Delay Valve $35

Tools Needed
Floor Jack
Flare Wrenches (Normal open wrenches might strip the nuts, so go out and pick up a set of these that are specifically designed for this job)
Vise Grip Pliers (Or other form of locking pliers)
Various wrenches

Instructions
Safely lift the front of the car
1. Using a lift or a floor jack with jack stands lift the car. Instructions for jacking up your car can be found here. This can be a very dangerous step, so make sure that the car is properly secured before ever getting under it. Never get under a car that is just supported by a jack!




Clutch delay valve




Locate the clutch delay valve on the drivers side of the transmission
2. Get under your car and locate the clutch delay valve.



Remove the clutch line





Remove the clutch delay valve




Clamp, remove, and replace the clutch delay valve
3. Using a rag and the vice grips, clamp of the clutch hydaulic line so that hydraulic fluid doesn't spill everywhere. If done right, there should be harly any spillage.
4. Using one 17mm flare wrenches and a normal 17mm wrench, lossen the clutch delay valve from the clutch line. (Use the flare wrench on the clutch line) Don't remove it yet, just loosen it.
5. Using a 10mm flare wrench and a the 17mm flare wrench, hold the 17mm nut and loosen the 10mm nut.
6. Loosen the 10mm nut completely and remove the clutch delay valve. Only turn the 10mm nut, don't turn the clutch hose.
7. Unscrew the old CDV and install the new CDV in its place.
8. The installation is reverse of the removal. Just make sure that the nuts are tight and snug. Don't overtighten them.

Bleed your clutch and check for leaks.
9. Now you must bleed your clutch so that you don't have any air in the clutch line (brake fluid is incompressible, air is compressible so you would have some serious clutch problems). The directions for bleeding your clutch can be found here!

Review and Conclusions
When you take off for the first time you will feel like you've got a new car! This is a definitly must do modification for anyone who wants to finally be able to shift again. You can't just take my word for it, it's something that you've got to do. Just ask some of the people that have done it, its totally worth it!