Do-It-Yourself information for the modifications I've completed



Do-It-Yourself information for essential wear and tear items



Articles covering all the ways to maintain your car



All about the BMW 330ci



Various links that I've found valuable



A few pictures of my car and some others

Changing Your Steering Coupler
Warning!
The information provided at "Bmw330ci.net" web site is "as is" with all faults and without warranty of any kind, expressed or implied, including those of merchantability and fitness for a particular purpose, or arising from a course of dealing, usage or trade practice. "Bmw330ci.net" web site nor it's owner/creator, can not and does not provide any warranty, expressed or implied, about the accuracy or use of information found on "Bmw330ci.net" web site. The user assumes that risk.
THE USE OF THIS INFORMATION IS FOR YOUR REFERENCE ONLY. BMW330CI.NET AND ITS OWNER/CREATOR DISCLAIM ALL LIABILITY FOR DIRECT, INDIRECT, INCIDENTAL, OR CONSEQUENTIAL DAMAGES OR INJURIES THAT RESULT FROM ANY USE OF THE EXAMPLES, INSTRUCTIONS OR OTHER INFORMATION ON THIS PAGE.
Difficulty
Changing out your steering coupler is very simple. The hardest part is getting underneath the car. If you've noticed that you're steering wheel has some extra play in it, I'd go ahead and replace the coupler. If you've done some work on your car like control arms, tie-rods, etc. and you're getting an alignment anyways, add this to your DIY list to freshen up your steering.

What is the steering coupler?
The steering coupler is a rubber bushing like device that takes translates the motion of the steering wheel to the steering rack. After time like any bushing it will wear out and start to give you extra play. Please note the picture below for it's location downstreem of the steering column.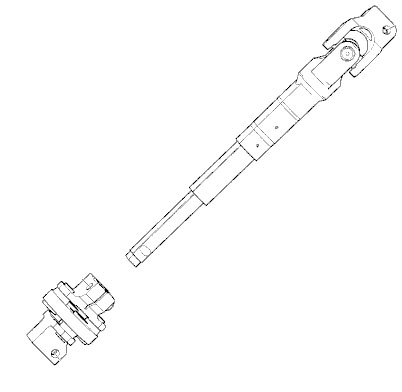 Tools Needed
External Torx E10 Socket
Screwdrivers
Various Sockets and Wrenches
Penetrating Oil (This will help do some of the work for you like PB Blast)

Parts Needed
BMW OEM Steering Knuckle (BMW P# 32-30-1-094-703) $41
Red Loctite (To make sure your coupler doesn't come apart later. Can be bought at any auto parts or home inprovement store)


Instructions
Safely lift at least the front of the car
1. Using a lift or a floor jack with ramps lift at least the front of the vehicle. Instructions for jacking up your car can be found here. This can be a very dangerous step, so make sure that the car is properly secured before ever getting under it. Never get under a car that is just supported by a jack!





Remove the splash shield





The splash shield





Remove the support brace




Remove the splash shield and support brace
3. Using a phillips screwdriver, loosen the seven screws and take off the engine cover. (Note: the screws won't come out, they will stay in place)
4. Using a 16mm socket, remove the eight bolts holding the support plate on.



Locate the steering coupler



Remove the E10 bolts



Steering coupler removed




Remove the old steering coupler
2. Frist make sure that your wheels are straight and the steering wheel is straight. Remove your key and lock the steering wheel by turning it. If things are off here, it could possibly change your steering wheel alignment. I did this right before I was going in for a 4 wheel alignment, so I wasn't that worried.
3. Locate the steering coupler and spray a little PB Blast on the E10 External Torx bolts. Wait a couple minutes.
4. Using a E10 External Torx bit, remove the bolts and disconnect the steering coupler. I found that once they were broken, a 8mm ratcheting wrench made their removal much easier. The portion from the steering coumn will move up allowing you to remove the coupler. Trust me, it will eventually come out.



Old versus new steering coupler



Red loctite



Reinstalled




Reconnect the new steering coupler and finish up
5. Install the new steering coupler in the same orientation as the old one.
6. Place some red loctite on the E10 bolts and reinstall them. Tighten them to 16 ft-lbs.
7. Reattach the engine support plate and torque all the 16mm nuts to 44 ft-lbs. Reinstall the splash cover and tighten the screws.

Conclusions
I can't really comment that much because I did my control arms, tie rods, and steering coupler all at the same time, but all I can say is that it drives like a new car. If you've got steering wheel issues and you don't want to break the bank, I'd invest in this DIY.