Do-It-Yourself information for the modifications I've completed



Do-It-Yourself information for essential wear and tear items



Articles covering all the ways to maintain your car



All about the BMW 330ci



Various links that I've found valuable



A few pictures of my car and some others

ZHP Shift Knob
Warning!
The information provided at "Bmw330ci.net" web site is "as is" with all faults and without warranty of any kind, expressed or implied, including those of merchantability and fitness for a particular purpose, or arising from a course of dealing, usage or trade practice. "Bmw330ci.net" web site nor it's owner/creator, can not and does not provide any warranty, expressed or implied, about the accuracy or use of information found on "Bmw330ci.net" web site. The user assumes that risk.
THE USE OF THIS INFORMATION IS FOR YOUR REFERENCE ONLY. BMW330CI.NET AND ITS OWNER/CREATOR DISCLAIM ALL LIABILITY FOR DIRECT, INDIRECT, INCIDENTAL, OR CONSEQUENTIAL DAMAGES OR INJURIES THAT RESULT FROM ANY USE OF THE EXAMPLES, INSTRUCTIONS OR OTHER INFORMATION ON THIS PAGE.
The ZHP Shift Knob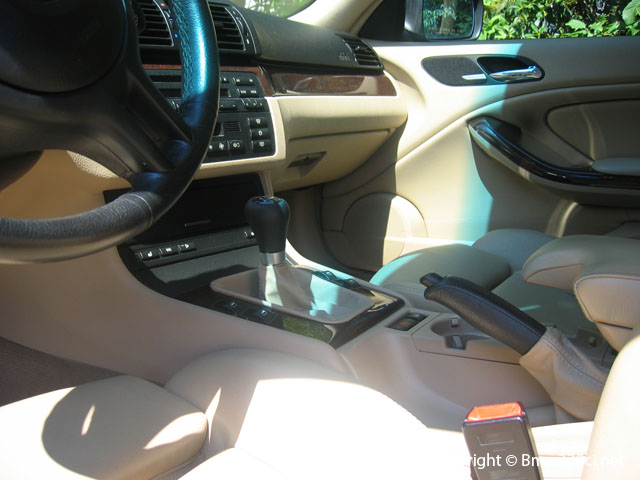 These pictures should make it pretty evident why the ZHP shift knob is an excellent modification. It is much shorter in size and is weighted to give a better shifting feel. It is also wrapped in leather with the Motorsports emblem on the shift pattern. The pictures below will help give perspective on the visual differences.

Difficulty
If you can breathe, you can most likely put on a new shift knob
Parts Needed
BMW OEM Zhp Shift Knob (BMW P# 25-11-7-896-031) $54

Instructions
Remove The Old Shift Knob
1. Grab the shift knob with both hands and pull up firmly. Be careful since when it comes off it will most likley come off quickly! You might get a black eye if you are holding your head over the knob.



Place The Zip Tie




Install The New Shift Knob
2. Take the new knob and put it on the shifter. Hit on the head a few times to ensure that the clips have engaged.
3. If the shift boot is now hanging down, get a zip tie and place it right underneath the shift knob to hold it up.
Review and Conclusions
As they say, a picture is worth a thousand words, and frankly, I believe that the before and after pictures say everything. The new knob feels much better because of its smaller size and heavier weight. I also prefer the feeling of leather over the stock wood shifter. It makes shifting much nicer, and for the price I highly reccomend it. It even looks good with the sand leather interior.
The Standard Shift Knob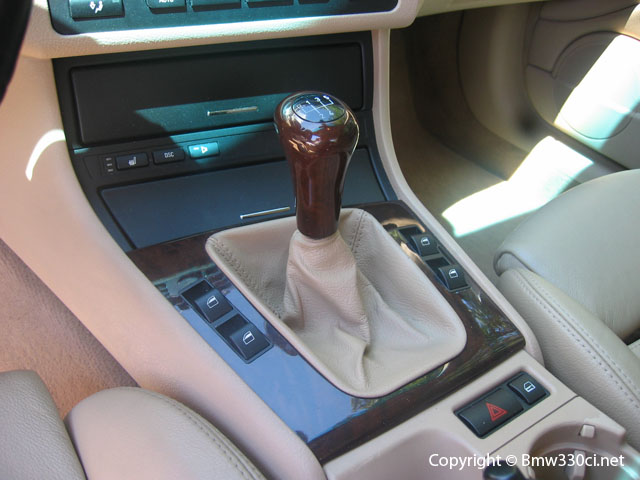 The ZHP Shift Knob